Add movement to
your working day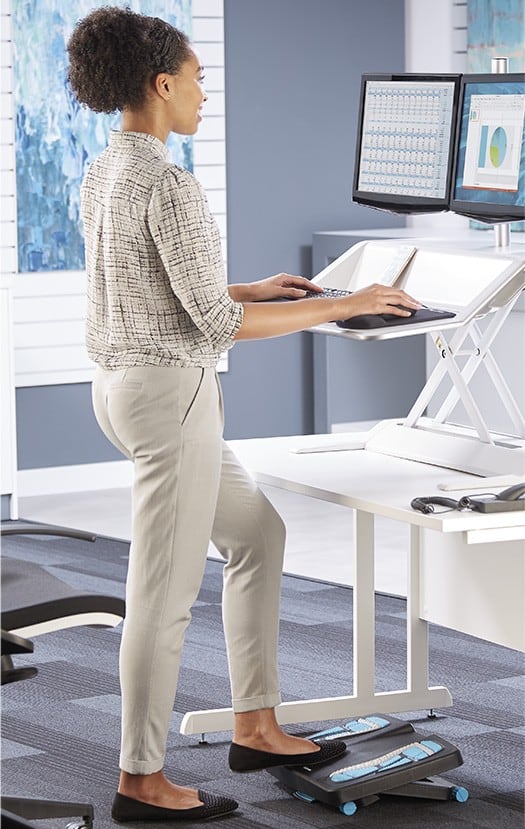 Prolonged sitting is not just bad for your back, it affects your breathing, digestion and every aspect of your health and performance, including engagement, concentration and focus.
If you always work at your computer or laptop in a seated position, you are doubling your risk of obesity by the daily time spent sitting*. It's therefore essential for you to add movement to your working day.
Moving to work in a standing position increases your blood circulation, concentration, metabolic rate and energy, which in turn help regulate blood pressure, blood sugar, body weight and stress.
Your risk of obesity is doubled by daily
time spent sitting *
and...
60%
of daily sitting time
occurs at work.
**
Stand and move more during the working day -

and integrate physical activity to achieve health and wellbeing!
Sit-Stand Workstations and Work Platforms encourage desk-based workers to work actively and move more, rather than being sat in one sedentary position for hours at a time.
A Sit-Stand Workstation or Work Platform from Fellowes takes desk working to a higher level without you needing to purchase a new desk. The systems simply fit onto your existing desk, and you can change your working position easily and silently in just a few seconds.
Add movement to your working day to help you stay active, healthy and productive. You'll find products to help you here.
Show products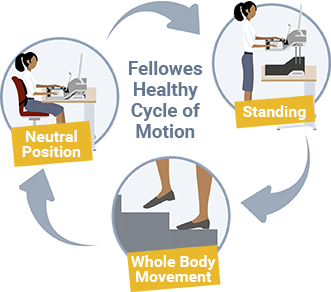 It's not all about standing up!
The key is to alternate between sitting and standing
in order to move more.
By alternating between sitting and standing at your desk you'll engage in a healthy cycle of motion and actively reduce the risks of sedentary working such as obesity, heart disease, cancer and diabetes.
There are plenty of things you can do to be more active, like using the stairs instead of the lift, visiting a colleague at their desk instead of emailing them, or standing up when using the phone. But by far the best way to encourage a disciplined cycle of motion is to consider a Sit-Stand working solution.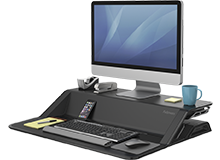 Fellowes Lotus™ Sit-Stand
Workstation
Show products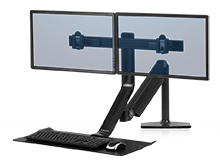 Fellowes Extend™ Sit-Stand
Work Platform
Show products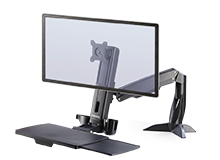 Fellowes Easy Glide™ Sit-Stand
Work Platform
Show products
*Bullock et al. 2016 **Clemes et al. 2015