€125,480 raised for breast cancer awareness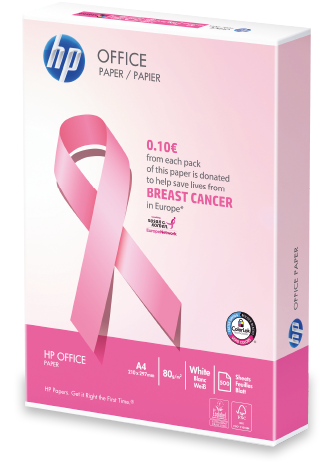 Office Depot helped raise 125k by supporting International Paper HP Pink Ream campaign.

In June and December last year, Office Depot partnered up with International Paper to help raise money for breast cancer awareness and preventing programs . An impressive sum of € 125,480 was raised.

Office Depot was International Paper's first distributor to join the HP Paper's Pink Ream Sales campaign in June, via the Office Depot and Viking channels in Europe.

The Pink Ribbon campaign was initiated to raise money and gain awareness for breast cancer. A contribution of € 0,10 from each HP Office Pink ream sale in Europe was donated to the Susan G. Komen Europe Network (www.komeneurope.eu) - a network of breast cancer organisations in Europe , committed to the fight against breast cancer. During this period, the response was overwhelming: over 1 million Pink Reams were sold via Office Depot and Viking channels, generating a total €125,480.

International Paper and Office Depot would like to say thank you to everyone who contributed to making this Pink Ribbon campaign such a success. We can all feel very proud of the way in which we worked together to make a positive impact on women's health.