Paper Buying Guide
Please check out the guide below to find the correct paper for your requirements every time. In this guide Viking will explain the most common and important features or specifications of office and copy paper like paper size, paper weight, colour of the paper, degree of whiteness, single or double-sided printing and even environmental/sustainability claims.
Paper Specifications
When choosing the most suitable paper for your printing requirements, several features are important to consider. Below are specifications that will help you make an informed decision.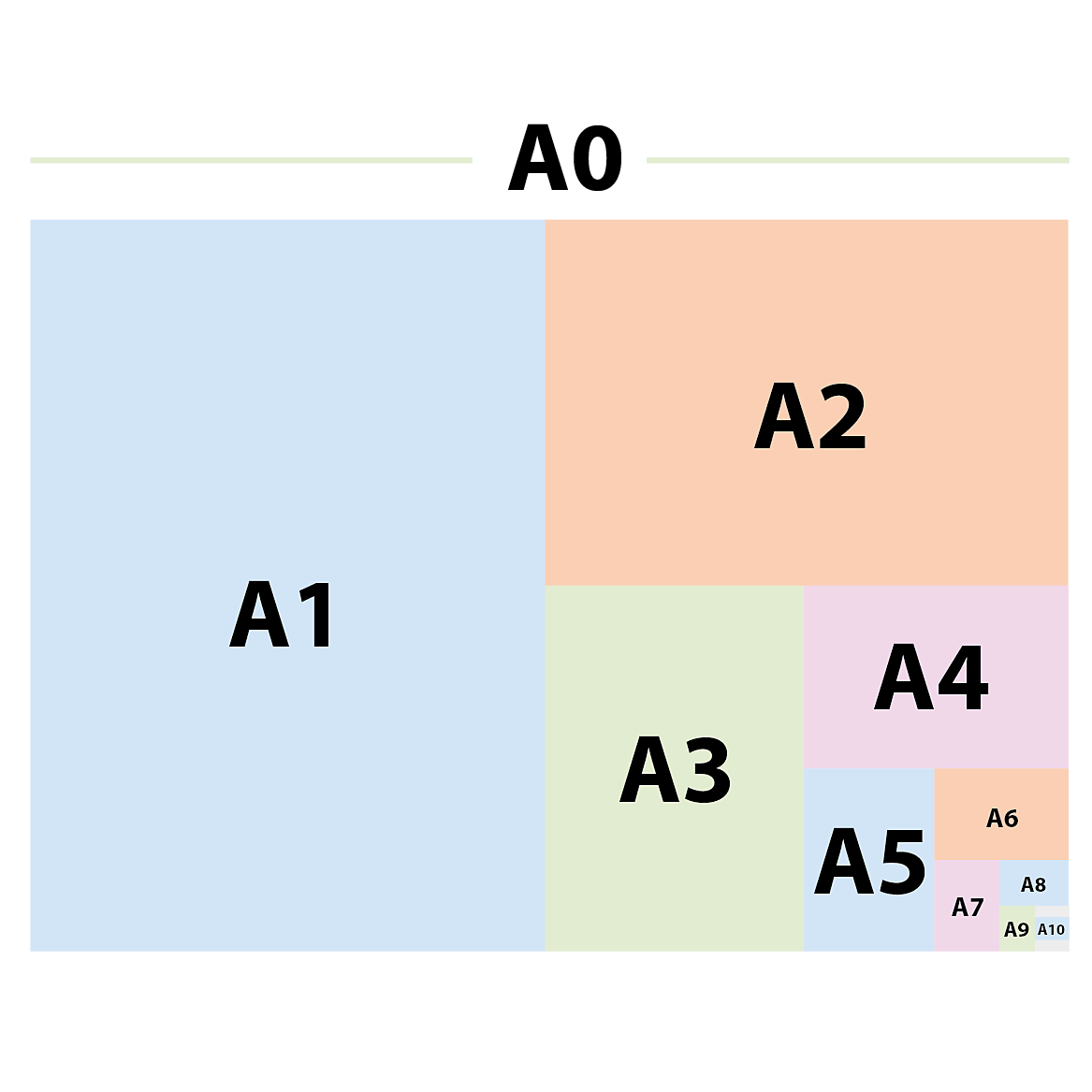 Paper format / Paper size
SO 216 is a paper coding system developed by the International Organisation for Standardisation (ISO), which is internationally renowned. The width-to-height ratio of 1: √2 allows the same proportions to remain when cut in half, meaning the prints are easily scalable. Each A-series code is equivalent to half of the next size up, and double the next size down. For example, A3 is as large as two A4 pieces of paper placed side by side, while A4 is twice as large as A5.
A4 is The most commonly used paper size. It is the standard format for most printers and, as a result, most documents, like letters, invoices, emails, reports and presentations are printed on an A4 format paper.
A3 paper is double the size of A4 and is mostly seen in the likes of visual designs or documents that contain large, complex tables that require more space. Due to the larger format, some printers do not accommodate for A3 paper so please refer to your printer's manual for suitability.
A5 paper sheets are generally used for mock-ups, leaflets or even menus. Again, not all printers adapt to these formats.
A0

841 x 1189 mm
33.11 x 46.81 inches

Application example: Technical drawings, Posters

A1

594 x 841 mm
23.39 x 33.11 inches

Application example: Flipcharts

420 x 594 mm
16.54 x 23.39 inches

Application example: Drawings, Large tables

297 x 420 mm
11.69 x 16.54 inches

Application example: Diagrams, Large tables

210 x 297 mm
8.27 x 11.69 inches

Application example: Letters, Forms, Emails

148 x 210 mm
5.83 x 8.27 inches

Application example: Menu cards, Brochures

105 x 148 mm
4.13 x 5.83 inches

Application example: Post cards, Flyers

A7

74 x 105 mm
2.91 x 4.13 mm

Application example: Promotional materials

A8

52 x 74 mm
2.05 x 2.91 inches

Application example: Business cards

A9

37 x 52 mm
1.4 x 2.05 inches

Application example: Vouchers & tickets

A10

26 x 37 mm
1.02 x 1.46 inches

Application example: Tickets
Paper weight
What does paper weight mean and why is the paper weight of copy and print paper important in your search for the perfect product?
Paper weight is usually measured in gram per square metres (g/m ² or gsm) and can be seen as a measurement of paper density, and thus an indicator of quality. This means, the lower the gsm, the thinner and lighter the paper. However, in some special cases, paper with a lower gsm can be thicker than one with a higher gsm. This comes from the use of different fibres. For example, our 75 gsm Office Depot Eco-Performance, as well as the 75 gsm Discovery Printer Paper are thicker than most 80 gsm paper because of the different material. In Europe, 80gsm is generally used as everyday printing paper.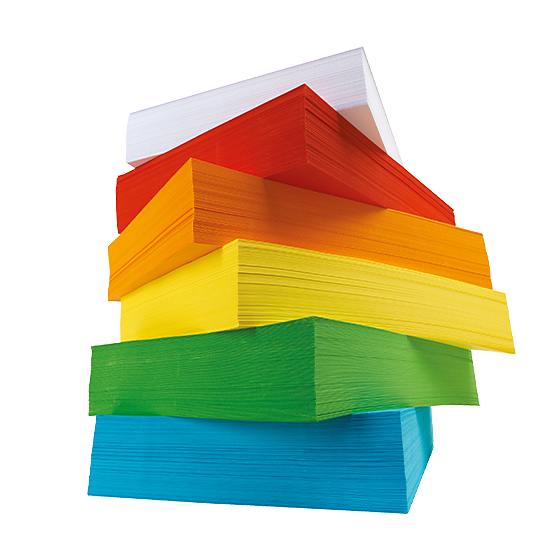 Coloured paper
For most offices, white paper is the norm, however there is also a great demand in coloured paper for various purposes. At Viking, we stock a full range of coloured/tinted print paper to meet all your professional and personal needs. Our own brand range contains both A3 and A4 formats, several grammages (80, 120, 160 gsm) in pastel, as well as bright colours.
Where is tinted paper used for? Tinted paper can be a form of filing to segregate different document types. For example, emails, delivery notes, quotes and invoices are just a few that use a colour coding system. Additionally, coloured paper can be used as a form of marketing as certain colours grab the attention of by-passers and therefore, results in a higher impact. Such purposes include training and promotional material like manuals, leaflets, brochures, reports, flyers and posters. Most commonly, coloured paper is used for invitations, dividers, newsletters and menu or table cards.
Did You Know?
Pastel-coloured paper is better than bright white paper for people with reading difficulties such as dyslexia. The British Dyslexia Association recommends the use of soft coloured paper to help people comprehend printed documents. This is the reason why many schools use cream paper.
Paper whiteness / quality
Generally, the degree of whiteness of paper is measured and displayed in CIE. This number is an indication for the level of whiteness in the paper. Usually, the higher the CIE number, the whiter the paper.
In a standard A3 and A4 sheet of paper, the CIE lies between 145 and 153. For your everyday standard black and white office needs, this paper should be used. Some examples of (internal) usage of this day-to-day paper are emails, copies, notes and drafts.
Business paper on the other hand usually has a whiteness level between 153 and 165 CIE. This paper is ideal for mass-printing, copying and basic colour printing and is suitable for all inkjet and laser printers and copiers. As this paper has a higher level of whiteness, it is perceived as higher quality, and therefore used for more important (internal) practices like reports, newsletters, presentations and contracts.
The highest quality paper is generally referred to as premium paper and has a whiteness level between 167 and 170 CIE. This paper is used to impress the reading by offering a high qualitative paper and colourful print results, and for this reason is seen in important, external communication like printed images, graphics, presentations and other high-profile documents. At Viking, we have a wide range of premium papers in multiple grammages.
Recycled print paper has its own special paper segment, especially in terms of whiteness level. The criteria for paper to be categorised as recycled paper is that the pulp where the paper is composed of is made from material that was previously paper. We at Viking have 50% recycled paper, meaning that half of the pulp was formerly paper and the other half is "new" pulp, as well as 100% recycled paper. The whiteness level of recycled paper can vary from a low-white level of 55 CIE, also known as off-white, to a 161 CIE.
What should be mentioned is that paper with a similar CIE value can differ in perceived whiteness. Some papers have a blue glare, while others may appear more red. Which of these two are perceived as whiter differs per person, however, commonly is the bluer-looking sheet seen as more white.
Single or double-sided printing / Duplex printing
Duplex printing means you print on both sides of the paper, either automatically through a function on your printer or by manually flipping the sheets after one page has been printed. This functionality saves on paper and is therefore an environmentally-friendly option.
In order to print double-sided, your printer will need to have the functionality built in and not all printers can duplex print. Just like printers, not all paper is suited for duplex printing. It is recommended to use business or premium paper due to their characteristics of thickness and opacity, ensuring the best results without paper jams.
Sustainability / Green claims
Not only paper from our ecological range have sustainable claims, but almost all the paper we carry in our assortment have at least one environmental claim. This means, our everyday, business and premium paper can be a sustainable solution. Below is a short description to give you a better understanding of what each claim comprises of.

100% recycled:
Contains post-consumer and/or pre-consumer recycled content. Contains 100% recycled content (by weight).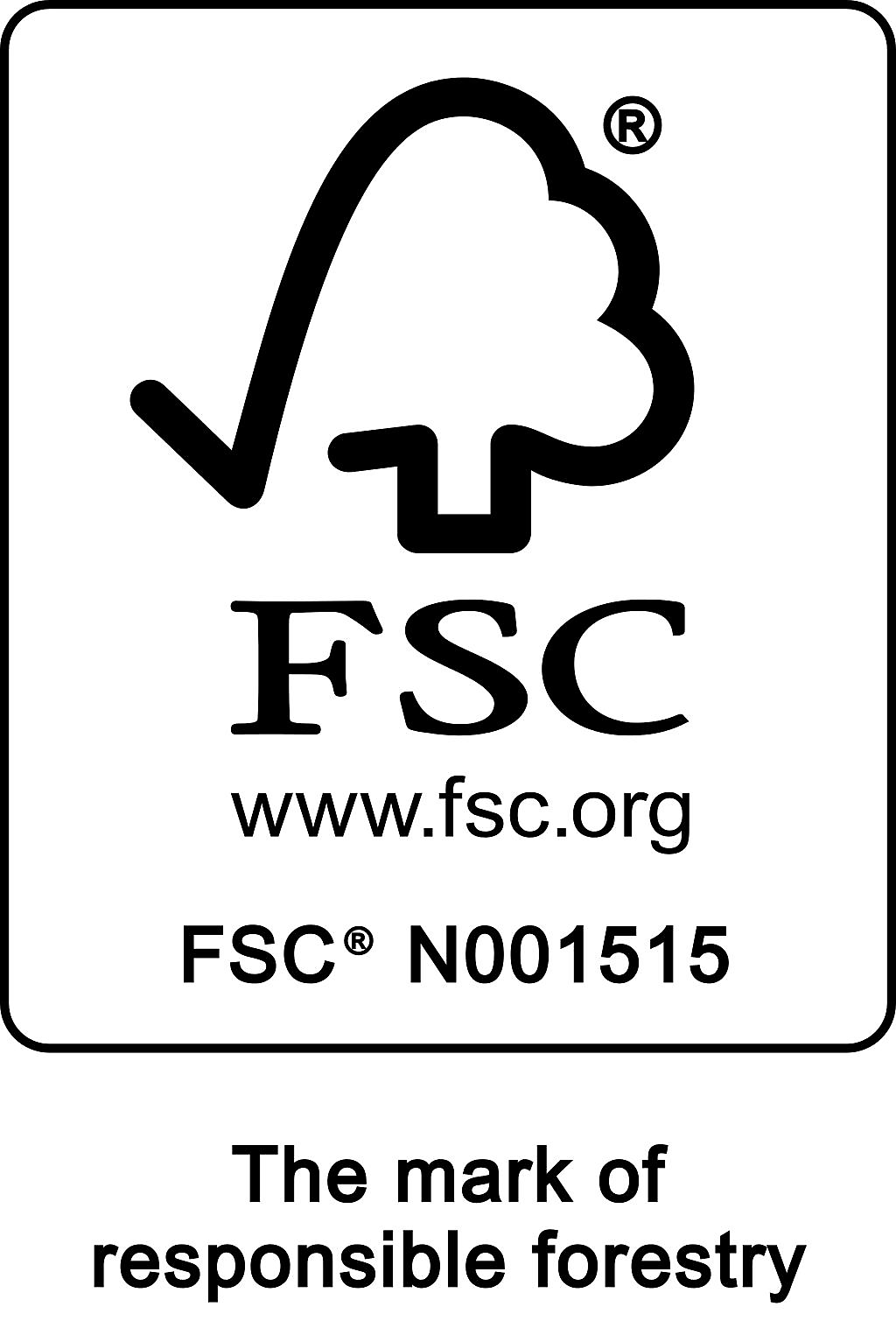 FSC® Certified:
Products originating from certified well managed forests.
FSC certification promotes environmentally appropriate, socially beneficial, and economically viable management of the world's forests through third party verification of the supply chain.

PEFC Certified:
Products originating from certified well managed forests.
PEFC scheme is promoting Sustainable Forest Management through third party verification of the supply chain to ensure that timber and non-timber forest products are produced with respect for ecological, social and ethical standards.

EU Ecolabel:
Products and services that meet high environmental standards throughout their life-cycle: from raw material extraction, to production, distribution and disposal.
The EU Ecolabel promotes the circular economy by encouraging producers to generate less waste and CO2 during the manufacturing process as well as encourage companies to develop products that are durable, easy to repair and recycle.

CO² neutral:
Having a net zero carbon footprint, refers to achieving net zero carbon emissions by balancing a measured amount of carbon released with an equivalent amount sequestered or offset, or buying enough carbon credits to make up the difference. Must be third party certified, third party label must be available to use.

Blue Angel:
Blue Angel products place less burden on the environment, fulfil high standards with respect to the protection of human health and promote ecological product innovations.

Nordic Swan:
Products that meet sets of strict environmental requirements in all relevant phases of a product's life cycle.
Strict requirements for chemicals used in eco-labelled products and continuous tightening of the requirements to create a sustainable development is the foundation of the Nordic Swan eco label.
Rainforest Alliance Certified™:
Products coming from a farm or forest operation that meets comprehensive standards that protect the environment and promote the rights and well-being of workers, their families and communities.
Quality or Production Type related Attributes

ISO9706:
Guarantees the performance of this paper in terms of documentation and archiving norms. It specifies the requirements for permanent paper intended for documents given in terms of minimum strength measured by a tear test, minimum content of substance (such as calcium carbonate) that neutralize acid action measured by the alkali reserve, maximum content of easily oxidized material measured by the kappa number, maximum and minimum pH values of a cold water extract of the paper. Is applicable to unprinted papers. Is not applicable to boards.

TCF & ECF
ECF (Elementary Chlorine Free) and TCF (Totally Chlorine Free). Indicating whether a product is manufactured from chlorine free paper and the paper is made from virgin fibre that is either unbleached or bleached without harmful derivatives.
The Paper Making Route
In principle is paper made from wood. Logs of wood are debarked and then ground into fibres. The wood chips are then cooked with chemicals to remove the lignin and reduced into smaller fibres where they will be washed, bleached and dried. At this point, the pulp is ready to be converted into paper: the wood pulp needs to be diluted with 100 times its weight before this fibre liquid is run through the paper machine.
The water gets removed during the wire section. There, the fibres will be spread and consolidated into a thin mat after which it will go through a press. This is where a lot of the water is removed, allowing the paper to be formed into its thin shape. It will go through a drying section before being gathered on large rolls.
To finish, these large rolls will be converted into smaller reels and cut into sheets.
Print and Paper: Myths and Facts
(source: www.twosides.info)
The Myth: European forests are shrinking
The Fact: Between 2005 and 2015, European forests grew by 44,000 Square Kilometres - that's an area bigger than Switzerland and amounts to over 1,500 football pitches every day!
The Myth: Planted Forests are bad for the environment
The Fact: Forests are essential for the transition to the green economy. Well-managed planted forests reduce the pressure on natural forests and can provide many other environmental benefits, like:
Can be more productive and can grow faster than natural forests
Can be independently certified
Can provide new recreational facilities
Can prevent soil degradation and erosion
Provide new habitat shade and shelter for wildlife
Contribute to rural development
The Myth: Paper is bad for the environment
The Fact: Paper is one of the few truly sustainable products. Paper is based on wood, a natural and renewable material. As young trees grow they absorb CO2 from the atmosphere. Furthermore, as a wood product, paper also continues to store carbon throughout its lifetime.
The Myth: Paper production is a major cause of global greenhouse gas emissions
The Fact: Most of the energy used is renewable and carbon intensity is surprisingly low. The paper, pulp and print sector is one of the lowest industrial emitters of greenhouse gasses, accounting for 1% of global greenhouse gas (GHG) emissions. The CO2 emissions of the European pulp and paper industry reduced by 22% between 2005 and 2013.
The Myth: Only recycled paper should be used
The Fact: Virgin fibres from sustainably managed forests are needed to maintain the paper cycle. Without new fibres, from new trees, the paper cycle cannot be maintained. Recycled fibres degrade after several uses and the paper industry needs fresh fibre from responsibly managed forests to keep the renewable cycle going.
The Myth: Print and Paper is a wasteful product
The Fact: Paper is one of the most recycled products in the world. The European recycling rate for paper reached 72% in 2014 - that amounts to 2 tonnes of paper being recycled every second!
The Myth: Electronic communication is more environmentally friendly than paper-based communication
The Fact: Electronic communication also has environmental Impacts. Each year, the electronic industry - one of the world's largest and fastest growing - generates up to 41 million tonnes of e-waste from goods such as computers and smart phones.
The Myth: Digital is always the preferred means of communication
The Fact: Many consumers still value paper-based communication. 84% of people believe that they understand and can retain or use information much better when they read print on paper. And 60% of citizens would not choose a company which does not offer a paper bill.
The Myth: Packaging is wasteful and unnecessary
The Fact: Paper-based packaging protects goods, reduces waste and is recyclable