RAJA Shop
With RAJA Packaging Solutions, you can optimise your online retail logistics. You can now get a wide selection of office supplies, warehousing supplies, and packaging all in one place.

Cardboard Boxes
When it comes to packing your goods and products, cardboard boxes are perfect. The lightest variety of cardboard box is a single wall corrugated box. You can opt for boxes made of double wall corrugated cardboard, depending on the weight and fragility of your product.
Envelopes & Mailing bags
For your everyday correspondence, shipping large documents, and delivery of smaller items, RAJA provides a large variety of plain and protected envelopes. You can also find traditional formats of envelopes for use in offices, both with and without windows. For larger and important paperwork, sturdy cardboard envelopes are excellent. They guard against its contents being creased or harmed during postal delivery.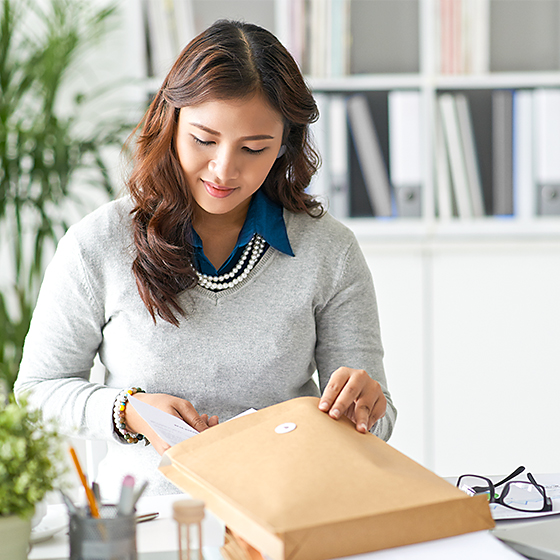 Bestselling Boxes, Envelopes & Mailing bags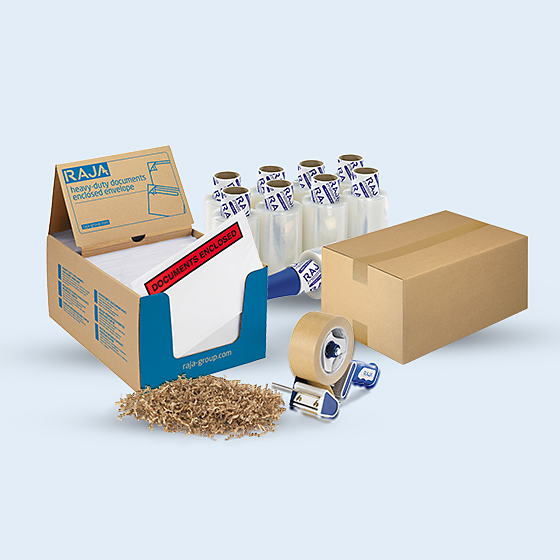 Product Quality Assured
One of our main responsibilities towards our customers is the quality of our goods. You can be confident that you are purchasing a high-quality item that satisfies your requirements. Our teams choose items of the best quality, paying close attention to the country of origin and method of production: we manufacture 75% of our items in the UK.
Currently, the RAJA trademark, a genuine seal of quality and creativity, is present on 400 of our references. You can rely on the dependability and quality of our products when you choose RAJA. You will undoubtedly find what you're searching for here within the vast assortment. After all, in Europe, RAJA is the leading producer of cardboard boxes, envelopes, and protective packaging.
Protective Packaging
Products that are pricey, fragile, or delicate need further protection. You may use bubble wrap to wrap your merchandise. By filling the gaps in the package, filler materials safeguard your items by being durable and shock-resistant.
Packaging Labels & Tags
It is advised to attach package labels to your boxes since they warn about delicate, combustible, or dangerous goods, or make it evident that your packaging has to be handled carefully, shouldn't be piled on top of each other, is sensitive to moisture, etc. Labels on packaging or warnings draw attention and aid in the safe delivery of your goods. You can find a selection of such products and more from RAJA.
Stretch Film, Strapping & Twine
For bigger shipments, sturdy stretch film and strapping are essential. These provide secure transit and shield your goods from moisture, dust, and other contaminants.
Bestselling Packaging products
RAJA Foundation
To advance women's independence and better their living conditions, the RAJA-Danièle Marcovici Foundation collaborates with French organisations that are active both domestically and abroad. It aids initiatives in four categories
Empowering women in pursuing their rights and standing up against violence
The Foundation aims to uphold women's rights and confront the prejudice and physical, sexual, and emotional abuse to which they are subjected. The funded programmes employ preventative, assistance, and rebuilding strategies to address threats to women's integrity and dignity.
Encouraging education and social integration for women and girls
The Foundation works to guarantee access to education, remove barriers, and decrease social isolation in order to combat the many types of exclusion and prejudice experienced by women. The Foundation works in collaboration with project teams to give women and girls who lack these rights due to their gender or because of economic and cultural barriers access to education and critical social services.
Enabling women's financial independence and professional integration
The Foundation funds initiatives aimed at increasing women's financial independence. By receiving professional training, obtaining employment, or starting their own business, the goal is to assist women in becoming more independent, providing for their families, and finding their position in society.
Enhancing the role of women in the battle against climate change and environmental protection
The Foundation supports initiatives that involve women in the fight against climate change and environmental protection. This includes those that support women's access to sustainable energy, natural resource management, waste management, and climate change adaptation.