Shredder Buying Guide
Why do you need a shredder?

We have all been in the situation when we needed to covertly get rid of personal or confidential documents. All shredders are made to make sensitive information harder to access by tearing documents into thin strips or tiny pieces that are nearly impossible to reassemble and read. Do you have any questions about what to consider before buying one? You can now select the one you require thanks to our handy guide
Before choosing a shredder
It is best to evaluate your needs before deciding which shredder is best for you. We have condensed some important factors below, which will help you reach a decision. One of the biggest mistakes one can make is purchasing a shredder that does not meet their needs and buying one that is not robust enough. For example, they may purchase a personal shredder, when in fact what would best suit them is an office shredder, suited for bigger jobs. For greater security needs, a micro cut shredder is the best choice, as it offers a higher security level and with it, peace of mind. A shredder with a credit card adaptation to it can also be purchased if you need to destroy more than just paper. Also, if you are buying a paper shredder for use at home, you would need to consider safety features, for instance-safe use around children and pets.
Quiet Shredding - If noisy paper shredders have been a nuisance in the past, or if you work in a shared space, a paper shredder with quieter performance may be important.
How Much Do You Shred? - When selecting a paper shredder, consider a combination of how much time you spend shredding with how much paper you typically shred. The longer the run time the more paper you will be able to shred before your machine will need a cool down period. Also consider the bin capacity of the shredder.
Paper Jams - This is the number 1 frustration among shredder users. Look for a paper shredder with anti-jam technologies as this will help prevent paper jams.
Safety Features - A paper shredder used in the home can be a potential hazard for children and pets. Choose a home paper shredder with safety features like a safety lock or SafeSense if this is a concern for your home office.
Shred More Than Paper - After a paper shredder, a credit card shredder is one of the most common choices among consumers. You can find shredders that can shred staples, paper clips, credit cards, CDs, DVDs and junk mail, in addition to paper.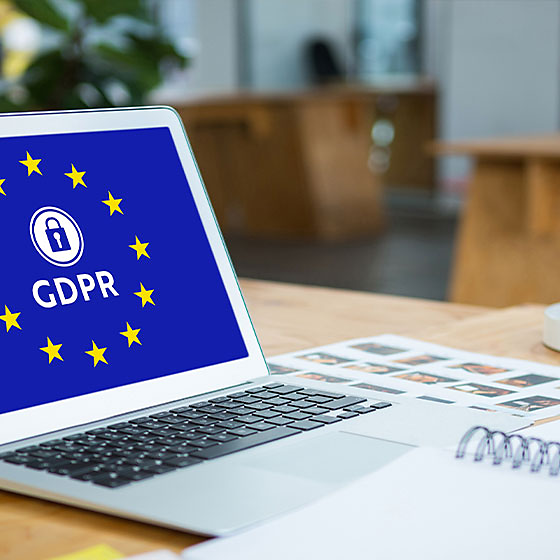 What is GDPR ?
General Data Protection Regulation
We all run the danger of identity fraud because we interact with so much information on a daily basis, both as individuals and as organizations.
The new GDPR regulation also has an impact on how businesses manage, store, and process data.
Organizations must assume greater responsibility for disposing of private documents securely and promptly under the GDPR regulations. Therefore, the time to get a high-quality paper shredder is now. It has never been simpler to shred private files and documents!
Security Level
The security level of a shredder is determined by the size of the shred. Ranging from P1 through P7, the higher the number, the smaller the shred size, and the safer your disposal. The level of security you require can help you narrow down the choices.
How secure?
Strip cut: This offers basic security shredding for documents with low confidentiality needs, providing the minimum level of security. Often classed as DIN P-1 and DIN P-2, a strip cut machine shreds each A4 sheet into approximately 36 strips, based on a 5.8 mm cut-size width.
Cross cut: This provides enhanced security for highly confidential documents. Consider a DIN P-3 or DIN P-4 cross cut machine that shreds each A4 sheet into approximately between 300 and 400 particles. Choose a cross cut shredder when needing to shred confidential documents in the home or the office.
Micro cut: This offers superior security for highly confidential documents and even greater peace of mind. Also referred to as DIN P-5, DIN P-6, or DIN P-7, a micro cut machine shreds each A4 sheet into over 2000 particles, making them virtually impossible to reassemble. Choose a micro cut shredder when you need to shred highly confidential documents, such as bank statements or employee records.
Manual or Auto Feed
Manual shredders are more common, where the user stays next to the machine whilst manually inserting documents for shredding. We would recommend a manual shredder if you like to shred as you go, if sensitive information needs to be destroyed immediately, or for large scale one off jobs like archive shredding in an office. An auto feed shredder is more suitable if large volumes of paper are regularly built up in single sessions, information is not so sensitive to warrant immediate destruction, or if time spent shredding paper is inconvenient and unproductive.
Other shredding options
At times, it is not just paper we want to dispose of securely, but other objects. One of the most popular alternatives among consumers, after a paper shredder, is a credit card shredder. Along with paper, it is possible to acquire shredders that can also shred staples, paper clips, credit cards, CDs, and DVDs.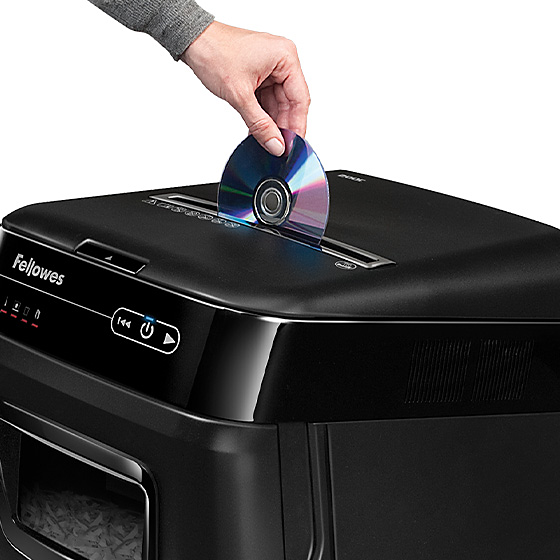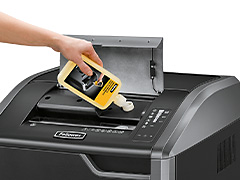 Shredder Maintenance
Regular lubrication is essential for maintaining your shredder's peak performance. Maintaining a well-oiled shredder simply takes a few seconds since it stops cutters from becoming stuck over time. It's usually time to oil the shredder when you discover it's having trouble shredding or jamming easily. Oiling your shredder every two months may be necessary to ensure optimal performance if you only infrequently use it. However, if you use your shredder often, it's important to oil your shredder each time you empty the waste bin.
Shredder Accessories