Tork Shop
Today, hygiene is more important than ever. Providing a consistently healthy and hygienic environment is key to employee and guest satisfaction and well-being. Tork, as a global expert in professional hygiene, helps you securing the new hygiene standard.
Solutions for your business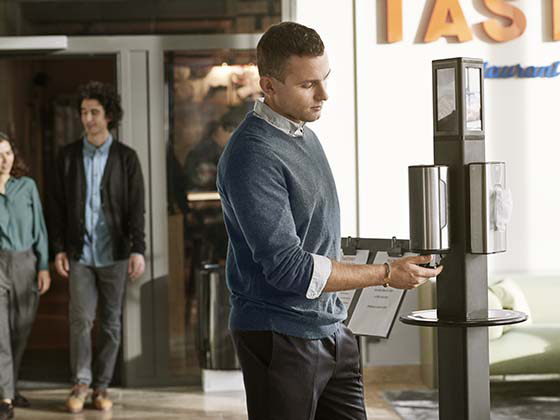 Improved hygiene and efficiency
Improving office cleaning quality and hygiene without compromising on operational efficiency is an ongoing challenge. Tork offers you a selection of hand hygiene, wiping and cleaning products that helps you elevate workplace-wellbeing.
Tork PeakServe® Continuous® Hand Towel Dispenser
Designed for high-traffic washrooms where staff needs to maximise cleaning time and maintain a good flow of people. 250% more capacity delivering 2,100 towels*. Smooth and easy dispensing in 3 seconds.

*compared to Tork Xpress® Multifold Paper Towel dispensers with Tork Universal towel.

Buy Now
Tork Intuition™ Sensor Soap & Sanitiser Dispenser
Make hand hygiene simple. Touch-free dispensing reduces the risk of cross contamination. Up to 2,500 doses per refill. Intuitive refilling in less than 10 seconds. Reliable performance and intuitive maintenance with an LED refill indicator.

Buy Now

Industrial

Everything needs to run smoothly in manufacturing. Tork offers solutions that makes industrial cleaning easy and accessible. The portable and durable products will help you improve processes and keep maintenance efficient.

Horeca

It's often the small details that set a restaurant apart from the competition. Tork offers solutions to help you to maintain hygiene, work smarter, and cater to satisfied guest who will gladly return again and again.
Well-Being

Raising hygiene standards for all and improving well-being in the workplace.

More from Less

Building the value using less by enabling habits that support sustainable consumption.

Circularity

Designing products and services that fit into a circular society.

Tork Coreless Toilet Paper

Compact mid-sized coreless rolls produce no waste and are equivalent to 4-5 conventional toilet rolls.

Tork Xpressnap®

One-at-a-time dispensing cuts use by at least 25% compared to traditional napkin dispensers.
Tork Reflex™ Centrefeed Dispenser
Durable dispenser with a rotating nozzle for easy access to wiping paper.

Single-sheet dispensing means users touch only what they take. This dispenser also keeps waste levels under control, reducing consumption by up to 37% compared with the Tork® Centrefeed system.

Buy Now