Laminator Guide
What is Laminating?
Lamination refers to coating documents, photos or artwork with a protective and long-lasting plastic film. It is a simple yet effective procedure that allows you to protect your documents from external damage such as tears, creases, spills, fingerprints, smudges or everyday use. Lamination is frequently used for a variety of printed documents such as business cards, price lists, restaurant menus, maps or posters.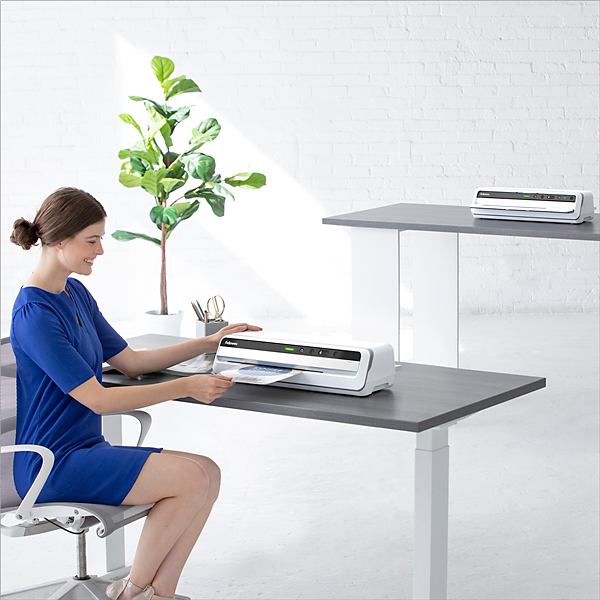 Key Benefits of Laminating
Laminating a document has numerous advantages. With lamination, you can:
Preserve your documents by protecting them from physical damage due to frequent handling. Documents laminated on both surfaces (known as "encapsulation") also become waterproof and tear-proof.
Enhance the look of your documents and obtain a brighter, clearer print. In particular, lamination boosts the colour and the contrast of the ink and thus produces a high-quality finish for your documents.
Ensure that your documents reflect the professional image of your brand. Laminating your business documents such as brochures or price lists can boost your respectable and credible brand identity.
Extend the life of a document. As lamination prevents damage to the document and keeps them in a pristine condition, laminated documents can last for a very long time without losing legibility.
Types of Laminating Machines
Laminators come in two distinct types: Pouch Laminators and Roll Laminators.
Pouch Laminators
Pouch laminators use laminating pouches, which are essentially plastic sleeves that you can place your document in. Once your document is fed into the laminator inside the plastic pouch, the laminator then applies heat to fuse the pouch together and seals the document.
Key benefits.
Optimal for occasional use
Simple to operate and utilize
Compact and easy to store
Roll Laminators
Automatic laminators are optimal for those that laminate frequently, and is typically used in businesses such as printers or copy shops. Being fully automated, they allow you to laminate a large quantity of documents in one go, considerably boosting your productivity.
Key benefits.
Optimal for frequent lamination or large volumes
Increases productivity versus traditional laminators
Produces professional outcomes with high-quality
Difference between hot & cold lamination
Hot lamination refers to the fusing of the plastic pouch with the use of heat. Laminators working with the hot lamination principle use electricity and there is a certain warm-up period for the machine to reach the necessary temperature. On the other hand, cold lamination can be performed without any heat. In laminators working with the cold lamination principle, the machine applies enough pressure on the adhesives to securely fuse the pouch together. Which one you will use to laminate your documents is entirely up to your preference.
Laminating frequency, location & use
Finding the laminating machine that is best suitable for you essentially depends on how frequently you will need document lamination. While selecting the right laminator, you should also consider how many people will be utilizing it on a regular basis. Small to medium sized laminators, especially for A4 laminators, are compact enough to be placed in your personal workstation. On the other hand, larger sized laminators, such as A3 or A2 sizes, are a better fit for common work spaces.
Small Office & Personal Use
If you are laminating documents occasionally for personal use or few times a week in the office, then you will definitely be better off with a smaller, more compact pouch laminator. Pouch laminators are easy to use and highly practical, and are the best choice for light to moderate use.
Daily Office Use
For frequent use with high document volumes, automatic laminators will be the optimal choice. If you are looking for a laminator to use in large office settings or in a school, go for an automatic laminator that will enable you to process a high quantity of documents in minutes.
Pouch finish
The finish of a laminating pouch is one of the most important factors that determine the final look of your document. If you wish to retain the readability of a document, you can choose a matt finish with a less reflective surface. However, glossy finish is also a frequently used in lamination projects, and ensures a polished and professional look for your documents.
Warm-up time: hot laminators might take some time to reach the right temperature. If you need lamination on a frequent basis, go for a laminator that has a shorter warm-up time.
Energy Efficiency: It's important for your laminator to have energy-saving modes, such as Auto Shut-Off, in order to minimize energy use and ensure safety.
Jam Free & Jam release: There is always a possibility that your document might get jammed in the laminator. To avoid any hassle, look for laminators with Jam Free feature, which will provide a smooth lamination experience. Jam Release feature will also come in handy to quickly release any jammed pouch.
Productivity: Ensure high productivity by selecting laminators with Auto Sense feature, which allows the laminator to recognize correct pouch thickness and automatically adjust to the best suited setting.
Advanced safety: Maximise the safety of your lamination process by opting for a laminator with safety features, such as surface temperature regulation, so that you can work with ease of mind.