Exacompta Shop

Offering a wide choice of premium, robust and aesthetically pleasing stationery products, Exacompta provide a variety of stylish solutions to maximise your workspace, whether that be at home or in the office. By utilising a rich history of producing high-quality stationery, their innovative UK & European manufacturing techniques continue to ensure that their filing and organisational products meet the requirements of modern workers.
Inspiration
In order to maintain high levels of efficiency, many hybrid workers prefer an ergonomic, structured home office that is also designed to suit the modern living environment.
Inspired by the Scandinavian 'Hygge' trend, the Aquarel range of filing and organisational products from Exacompta offers premium stationery items in pastel colours that encourage imagination, calmness and wellbeing by creating a cocooning atmosphere. With sustainability in mind, many Aquarel items carry the FSC®, PEFC™ or Blue Angel accreditations.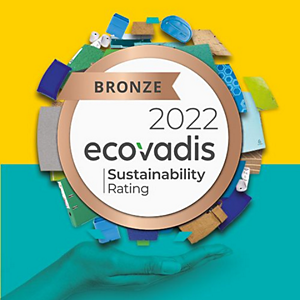 2022 EcoVardis Sustainability Rating
The environment has been an integral consideration of the Exacompta Clairefontaine corporate strategy for over 40 years. Modern production facilities have enabled the development of more ecologically aware manufacturing techniques and a growing number of their products carry the Blue Angel, PEFC™ and FSC® certifications.
The group are involved in a wide variety of European and UK initiatives that favour biodiversity and Exacompta has been recognised for sustainability by the world's largest provider of business sustainability ratings, EcoVardis.
All Eco products
PEFC™
With a presence in 37 countries and accounting for almost three-quarters of all certified forests globally, PEFC™ is the world leader in forest certification.
FSC®
FSC® is a globally recognised non-profit organisation dedicated to promoting responsible forest management around the world.
Blue Angel
The Blue Angel symbol represents a reliable, yet demanding certification. It is only awarded to products meeting strict
environmental criteria.
Behind the scenes
Founded in 1928, Exacompta was originally a workshop for the production of account books and diaries. Located on the banks of the Canal Saint-Martin in Paris, the site is home to the largest factory within the heart of the city.
Exacompta is proud to still have the vast majority of its products 'Made in Europe' and with 11 highly specialised production sites across Europe and the UK, as well as an automated shipping platform based in the Paris region, the brand has grown to become a major European manufacturer of office suppliers and stationery.