Office Depot Ergonomics Buying Guide
Solutions for a
healthier
work place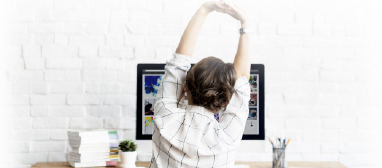 Prevent is better than to cure!
Bad working habits when using computers, laptops and tablets are a major cause of discomfort and absenteeism in the work place. Adopting good posture, sitting comfortably and being active at work not only makes employees feel better, but it also promotes productivity and they stay healthier for longer.
Optimize your sitting position and maximize working comfort is the best way to stimulate blood circulation and prevent physical complaints.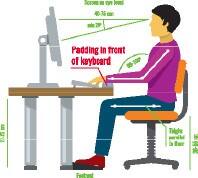 To avoid

wrist pressure:
Keep forearms parallel with the top of your desk, ensuring your elbows are level.
Allow yourself a regular break from using a keyboard and mouse.
When working with a keyboard and mouse it is important that the arm is sufficiently supported by using a good armrest on the chair or a separate armrest. An armrest reduces muscle tension in the arm and shoulder and promotes comfort. A wrist support helps to keep the wrist straight during typing and can be used `to rest` for a moment during work.
Why use
Office Depot

Ergonomic wristrests?
The material forms to the shape of the wrist and gives you the support needed.
Increase the precision and accuracy of mouse control.
See all wristrests

Comfort
Gel or foam pads feel comfortable and allow good blood circulation
Productivity
Smooth surface provides accurate mouse control
Comfort
Anti-slip base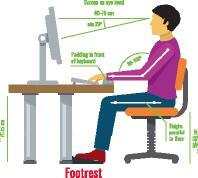 To avoid

back pain
A footrest can help out when the desk is not properly height adjustable.
Check your posture; always use a back and foot support whilst seated to achieve the best working position.
Allow yourself a regular break from your desk.
Why use
Office Depot

Ergonomic footrest?
A good footrest can also reduce back tension by taking the load off your lower limbs.
If you sit with your feet dangling or your knees at an odd angle all day long, you risk developing blood clots or varicose veins.
See all footrests

Design
Stylish and adjustable height
Comfort
Contoured foot platform to minimize slip Swinging platform to improve blood circulation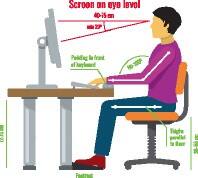 To avoid

neck pain
Ensure your eyes are in line with the top of your screen.
Allow yourself a regular break from your desk.
Why use
Office Depot

Ergonomic laptop or monitor riser?
Using a riser in combination with an external keyboard and mouse has proven to increase productivity.
It also significantly improves sitting posture. You prevent to get a neck ache or pain in shoulders from looking down at your screen.
For ultimate work space on your desk, the Office Depot riser comes with a small area for you to put your pens, sticky notes or paper clips.
Using our folding laptop riser will allow you to be ergonomically equipped even while you're travelling.
See all risers

Design
Laptop Riser: Lightweight and with protective rubber feet
Monitor Riser: Easy to assemble and height adjustable with lots of space underneath
Suitable for
Laptop Riser: Laptops up to 17inch with adjustable angle up to 40° Monitor Riser: Monitors or screens up to 10kg
Comfort
Laptop Riser: Anti-slip base
Policies on health and well-being are considered of
primary importance

to the European Union!