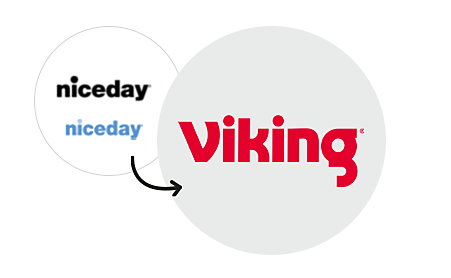 Niceday becomes Viking
Over the last three decades, niceday® has undergone significant transformations, moving from its original dog mascot and cloud graphic to its current sleek black and white identity. Despite all these changes, niceday® has remained true to its core purpose: offering great value for your money. When searching for essential products at an affordable price, niceday® has been the answer to needs of countless customers.
As our company is transforming, so will our own brands. Since 2021 our company operates under the brand Viking®, and for this reason, we will migrate niceday® branded products to our Viking® brand. Just like before, this assortment will keep offering entry-level paper products, such as copy paper and labels, pens and markers, diaries and calendars, essential desktop accessories as well as our economical whiteboard range.
Together with the rest of our assortment, this essential range will contribute to strengthening our company brand all the while offering different price points and quality brackets within the same portfolio.
If you are searching for any of the niceday® products, have a look at our new Viking® brandshop.