Pilot Shop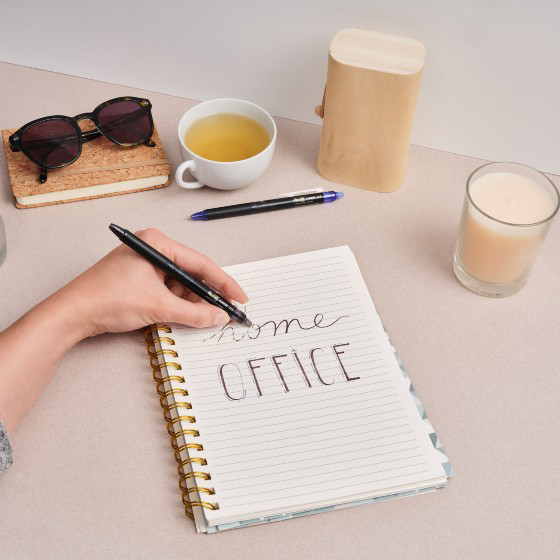 A new generation
A new generation of gel ink which becomes invisible due to heat. The heat-sensitive FriXion ink from PILOT is initially coloured (black, blue, red...), but from a temperature of approx. 60°C it becomes transparent. The FriXion pens are equipped with either a plastic tip at the end of the case or on the cap head, which acts as an eraser. With the help of the eraser, which heats up without damaging it. Changes can be made as often as desired.
It is important that you treat your documents written with FriXion ink carefully and do not expose them to heat sources. For example do not leave your documents in the car on a hot day or near a heater. Conversely, you can bring the ink back to light at a temperature of less than -10°C by placing the papers in the freezer, for example! The use of FriXion pens on official documents is not recommended under any circumstances, as the heat-sensitive ink is not document proof.
FriXion Range
Quality, Innovation & Sustainability
PILOT combines quality, innovation and sustainability and is committed to our planet by pursuing a 4R strategy: Recycle, Reduce, Refill, Reclaim. True to this motto, there is a constant attempt to make the products even more environmentally friendly. For example, PILOT uses recycled material for many products. For the " Bottle 2 Pen" gel pen, for example, up to 2.5% recovered plastic from maritime and environments is used.
The principle of " write better with less" is more than a philosophy. It stands for PILOT's approach of reducing the environmental impact of production while maintaining quality standards. More than 60% of all PILOT products can be refiled, so that the service life of the pins can be extended and the CO₂ influence can be reduced once again. In addition, since 2022, stationery produced in France has been officially certified as climate-neutral compensation.
Climate compensation
PILOT continuously reduces its own CO₂ balance. In cooperation with ClimatePartner, all writing instruments produced in France are already being produced at PILOT as climate-neutral through compensation.
EOPA Award
With its "4R sustainability strategy", PILOT is pursuing a holistic 360-degree approach, for which the writing instrument brand received the "Sustainability Excellence Award" at the EOPA ceremony in Amsterdam in 2022.